Cherry
Growing!
Our new topic is 'Growing' and we have lots of exciting things in store! We have some new classmates in the form of a tank full of tadpoles! We are looking forward to learning all about their life cycle and watching how they grow and change over time!
Check out our Medium Term Plan below...
Cherry Tadpoles!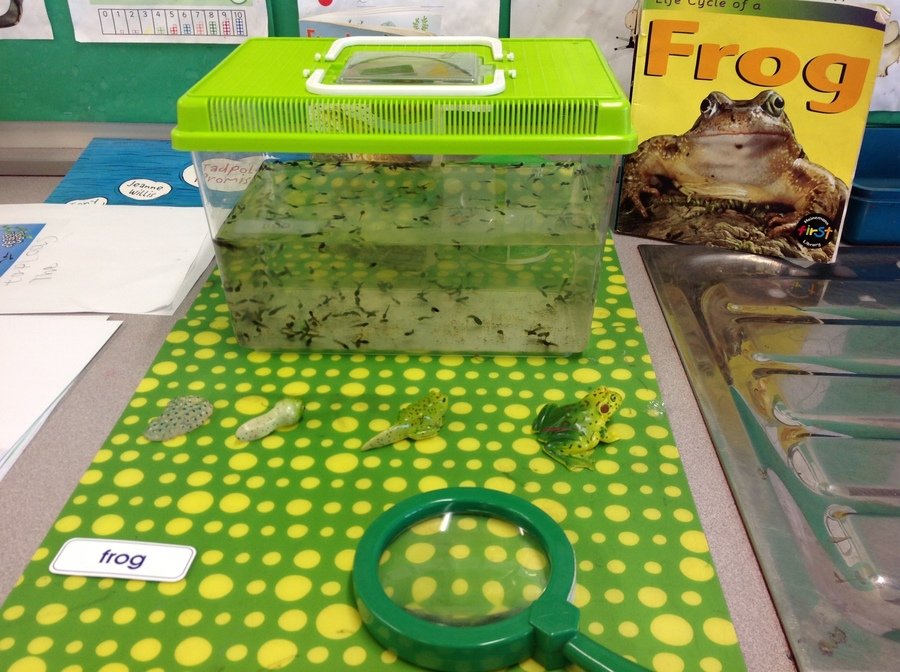 Superhero Ceremony!
To celebrate the end of our topic 'People Who Help Us' we decided to host a ceremony for our very own little superheroes! All the children in the class nominated a member of the class that they thought had superhero qualities such as being helpful or being a good friend. The children came dressed as superheroes in capes they had created as part of a Home Learning Project. The children had a great time!
Cherry Superhero Ceremony
People Who Help Us - Parent Visitors
We were really lucky to have lots of parents who agreed to come into class to talk to the children about how they help people through their jobs!
We thought of questions prior to their visit and then sat and listened to each one carefully.

We learned from:
*A youth worker
*A dental nurse
*An adult nurse
*A firefighter
*A stoma nurse
*A child nurse
*An ambulance technician
*An electrician
*A caretaker
Have a look at our wonderful, inspiring visitors below.
People Who Help Us Visitors
Space Pancakes!
To celebrate the end of our topic we made 'Space Pancakes' for our Learning Partners! We investigated their favourite pancake toppings and their dislikes before designing a 'Space Pancake'for them. We made sure that our toppings were well balanced with mostly healthy toppings but a couple of treats too. We wrote lists of the ingredients we would need and then followed our designs to create the pancakes. Don't you think they look delicious!?
F2 Space Pancakes!
Science Week!
We had a great time celebrating the whole school event 'Science Week'! Our science investigations focused around minibeasts and we were fortunate enough to have the STEM ambassadors to help us create our very own 'Bug Hotel'!
We went on a minibeast hunt to find the habitats they lived in and then tried to attract our own minibeasts to live under tiles in different locations!
F2 Science Week!
Alien Crash Landing!
We made a startling discovery that an alien spaceship had crash landed in our school grounds! There were parts of a broken spaceship, green slime and red jelly dotted around! We practised our writing skills by recording the clues that we found.
We later found out that the alien that had crashed was a friendly one called 'Yaz'. He was lost and didn't know where he was so we developed our geography skills by describing our schools grounds to him and looked at our school using 'Google Earth'.
Space Dome!
In preparation for our upcoming topic of 'Space' we had the opportunity to visit the 'Space Dome' as a pre-learning activity. It was amazing!
We loved looking at all the planets, constellations and the moon! It was fascinating and has left us very excited about our new topic!
Christmas Dinner!
We loved joining in with the festivities to celebrate on our 'Christmas Dinner day'. The food was delicious and everyone left with a big smile on their face!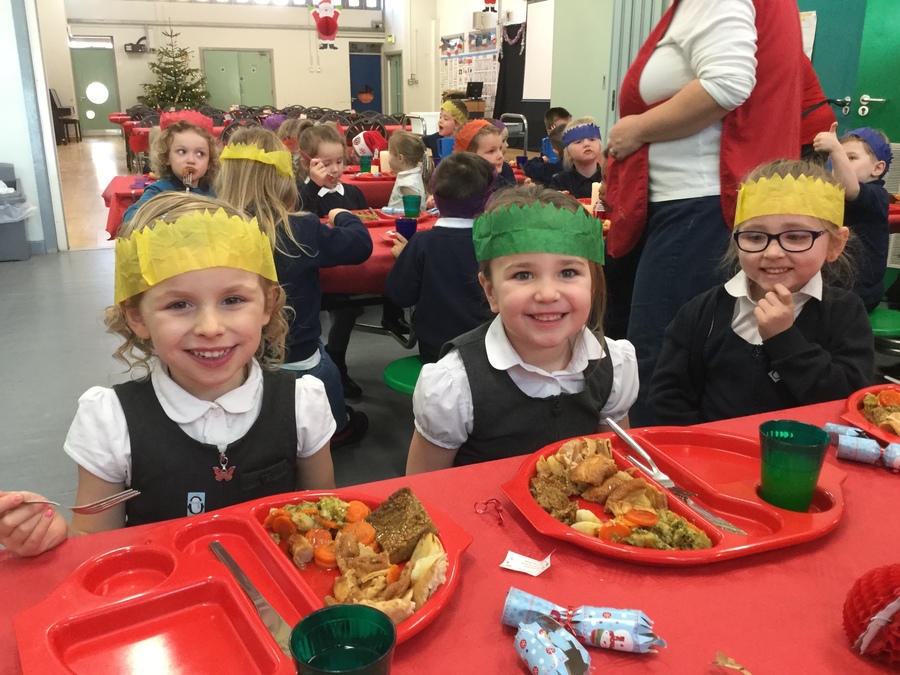 Mosborough Church Visit
We had a great time on our visit to Mosborough Church. We had the chance to look at all the wonderful Christmas tree decorations that had been donated, found out how to make a Christingle and learnt the story of the nativity. A big thanks to all the parents who were able to come with us. The children behaved impeccably and did Mosborough Primary School proud!
A King Is Born!
Our Nativity performance was a huge success! All the children worked so hard to remember their lines and the words to the songs! They did an amazing job and we were so proud of them!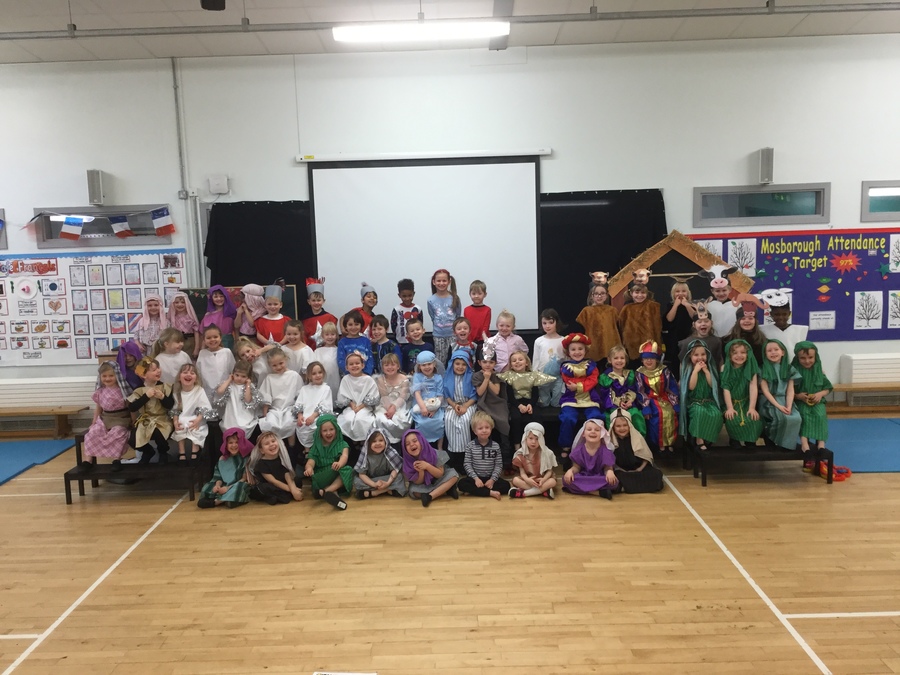 We're Going on a Bear Hunt!
Our topic of 'Goldilocks and the Three Bears' started off with an interesting discovery! We found a bear print in our classroom! We decided to go on a bear hunt and we managed to find lots and lots of clues of the bear around our school! We found scratches on the trees, broken twigs, fur...and a giant bear poo!
Dinosaur Showcase!
We celebrated the end of our first topic, 'Dinosaurs' with a showcase event with parents! We had lots of fun activities to join in with, such as making dinosaur cookies, skeleton pictures and dinosaur hats as well as the chance to show off our fantastic literacy learning! We kicked off our event with a performance of our dinosaur song and dance. It was the children's first ever performance and they did an amazing job! Thank you to everyone who came along!
Farmer's Market!
The children worked really hard to produce their items for the 'Harvest Farmer's Market.' They made 'Volcanic Hot Chocolate Cones' in keeping with our Dinosaur topic theme and 'Fossil Fancies cookies.' The children were able to practise lots of skills during this process such as counting out amounts accurately, capacity, following instructions and creating posters. Thank you to everyone who supported us at this event, we managed to raise £230 to donate to charitable causes!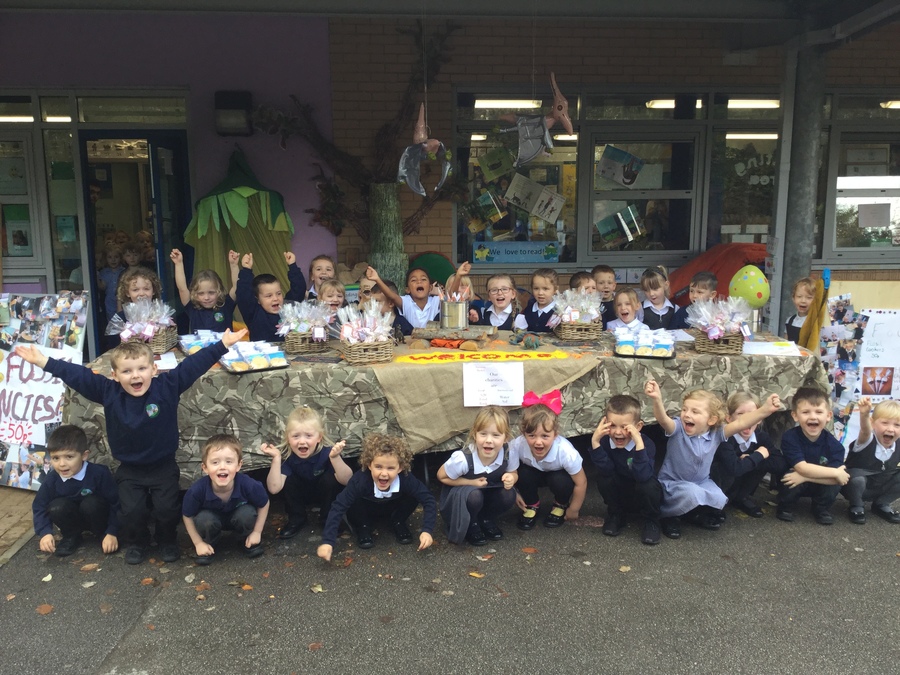 Dinosaur Hunt!
We followed a map to hunt for dinosaurs in our school grounds! We practised 'positional language' as we followed the map and we found....a dinosaur egg! It was very exciting!
Cherry Class Charter
This week we discussed different types of behaviours. We all agreed that we wanted to show positive behaviours in our classroom and placed our hand print on the Charter to show our agreement to this and ensure our classroom is a happy place to be!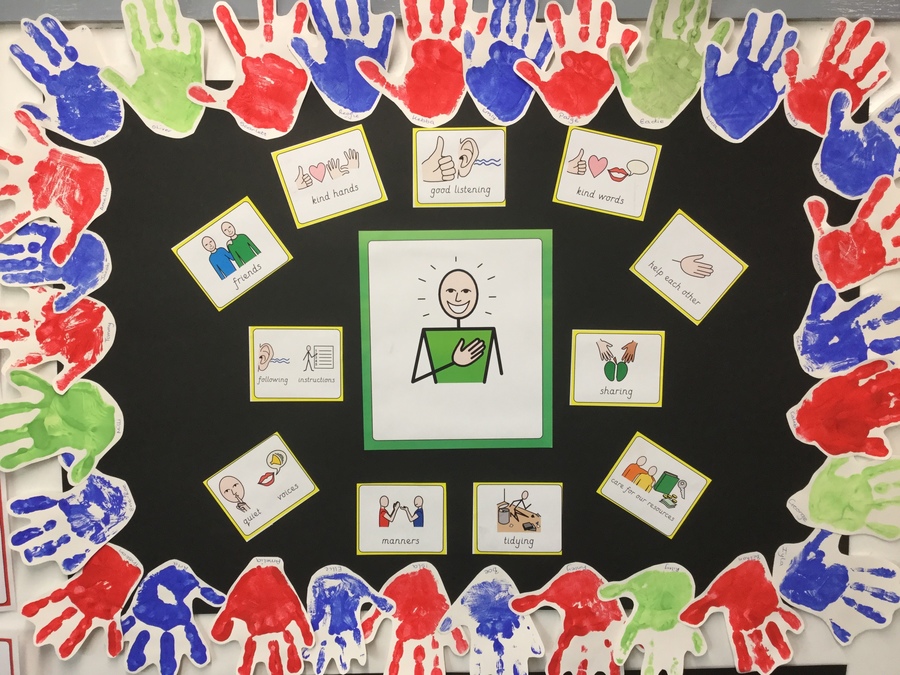 Class Dojos!
The children have all been assigned their own 'Dojo monster' to begin collecting their 'Dojo Points'. The points are awarded for the following areas; Respect / Curiosity / Creativity / Stickabilty / Independence.
There will be certificates and prizes for the most Dojo points achieved each half term! Parents can sign up to link to their child's 'Dojo points' so they are notified every time their child is awarded one!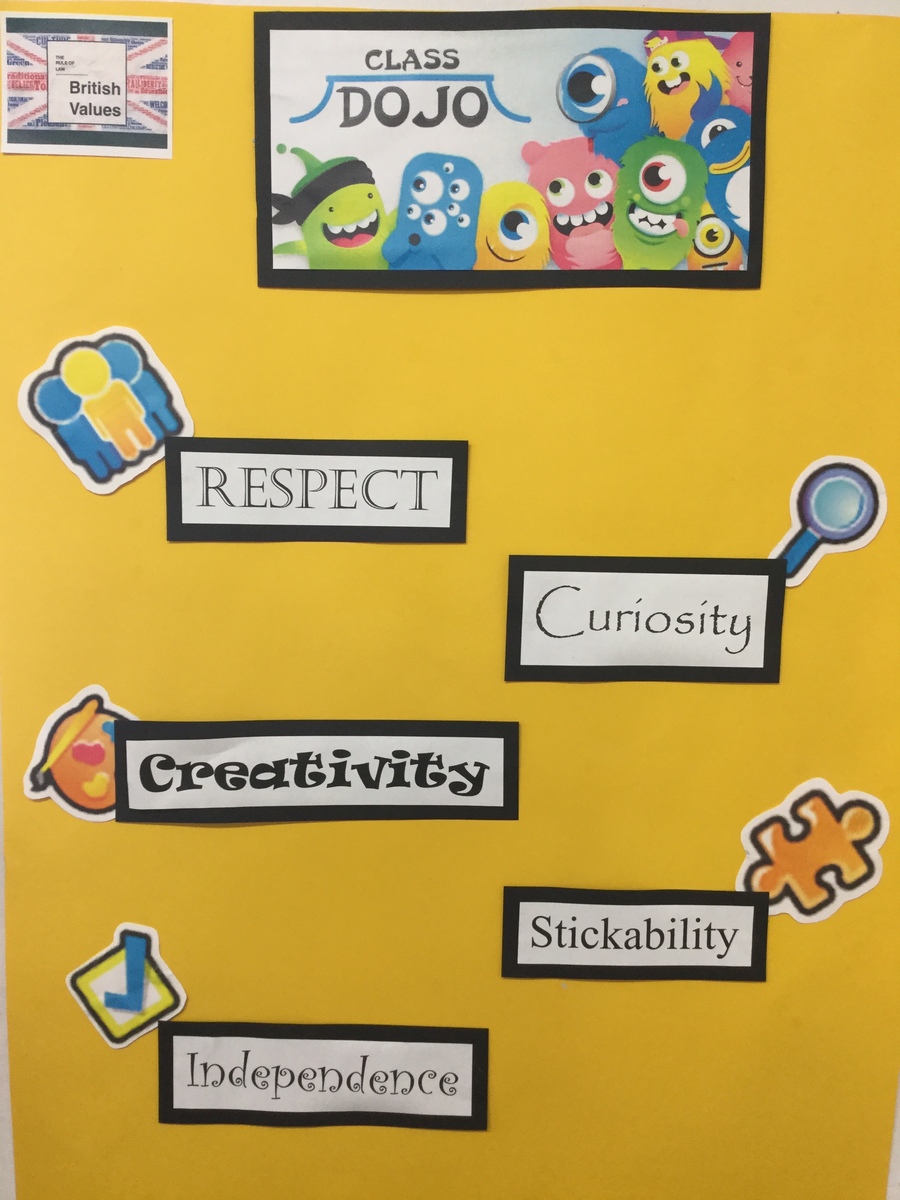 Treasure Boxes!
Thank you so much for all the 'Treasure Boxes' created over the summer holidays! We cant wait for children to share them with the whole class and discover