Eco Committee 2017-2018
Our new ECO Team has been decided!
Meet our new members:
FS Willow-Phoebe Redfern
FS Cherry- Scarlett Shirtcliffe
Y1 Beech- Conor Barber
Y1 Fir- Seth Gambles
Y2 Oak- Vinnie Parkin
Y2 Palm- Noah Tongue
Y3 Banyan- Samuel Brown
Y3 Rowan- Carter Bingham
Y4 Acacia- Finley Widows
Y4 Elder- Jessica Coyle
Y5 Cedar- Josephine Doona
Y5 Maple- Millie Adams
Y6 Redwood- Eliza Sefton
Y6 Olive- William Hartley
Meeting 1: Introduction to each other and the plans for the future. We even decided on some new recycling bins for the outside of the KS1 and KS2 yards. Job 1 was a success!
We also had our first group photo! One was showing how excited we were to be apart of the new ECO squad! I wonder if you can see which one. . .
Spring 1: Switch Off Fortnight
We gave each class a task to help with our 'Switch Off Fortnight'. They were asked to monitor when their teacher switches off their interactive whiteboard (IWB) and to complete a poster to help remind their teacher to switch it off.
Our ECO team displayed posters around the school to help promote this energy saving fortnight. (Below).
Advertising Switch Off Fortnight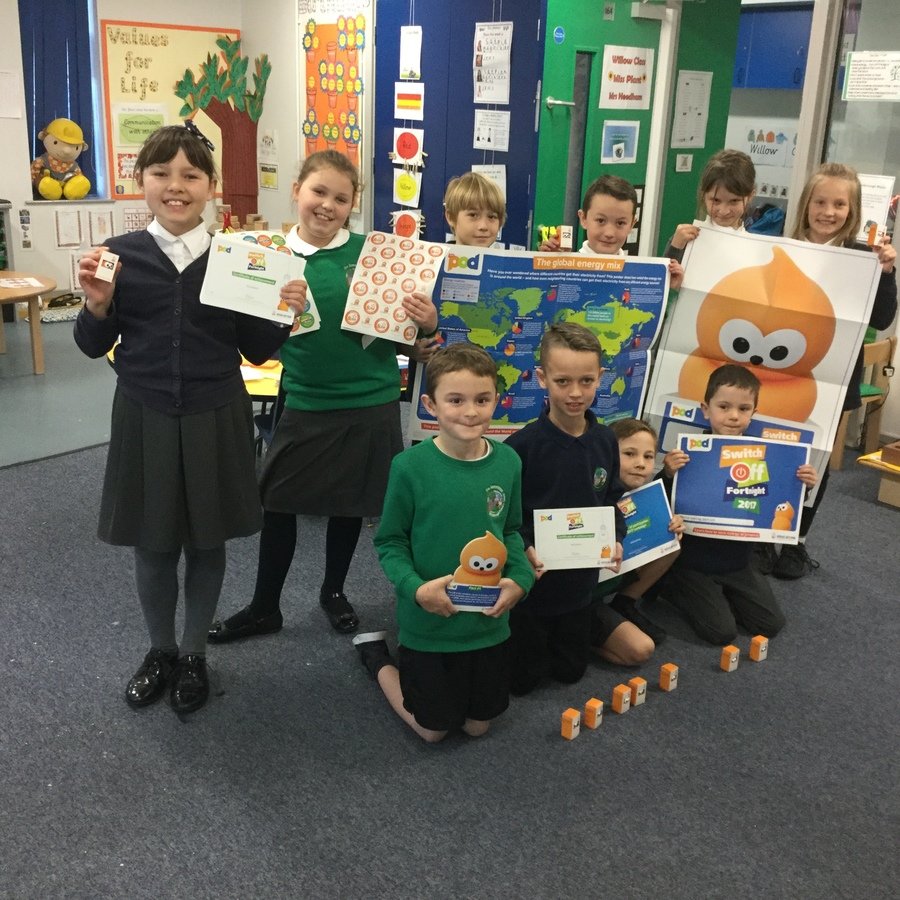 The winning class with the most entries was Y3 Banyan! They were given a class prize (of their choosing!).
Each class picked a winning IWB entry and were given a EDF prize key ring (below). Well done to all who took part!
Switch Off Fortnight competition winners!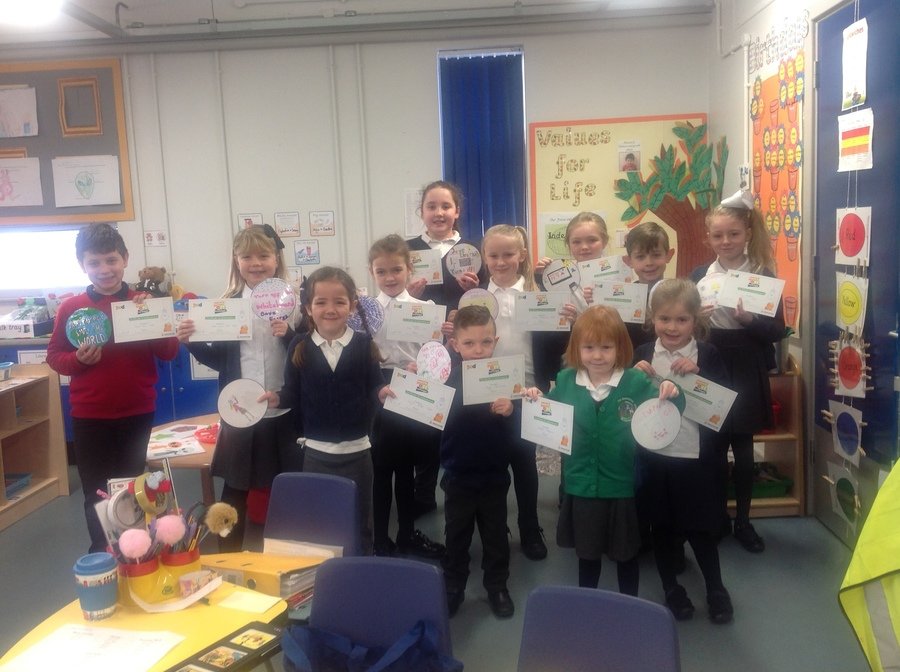 Spring 2: Reviewing our school
The KS1 and the KS2 children reviewed the school for all 9 areas important to the ECO criteria.
We found out questions about:
Biodiversity

Energy

Global Citizenship

Healthy Living

Litter

School Grounds

Transport

Water

Waste
In conclusion to our findings, we have chosen our 3 focus areas for the rest of the school year:
What a team!
It is unfortunately time to celebrate the year and begin to promote the job role to pass onto another member. The children have implemented changes to the school like daily litter picking and new outside recycle bins as well as standing in front of the whole school to talk about litter and the effects plastic is having on the environment.
The children were rewarded with house points for their amazing dedication all year!
Thank you guys!
Team ECO 2017-18